Rosis Rockets - Goin' Down South (Album CD)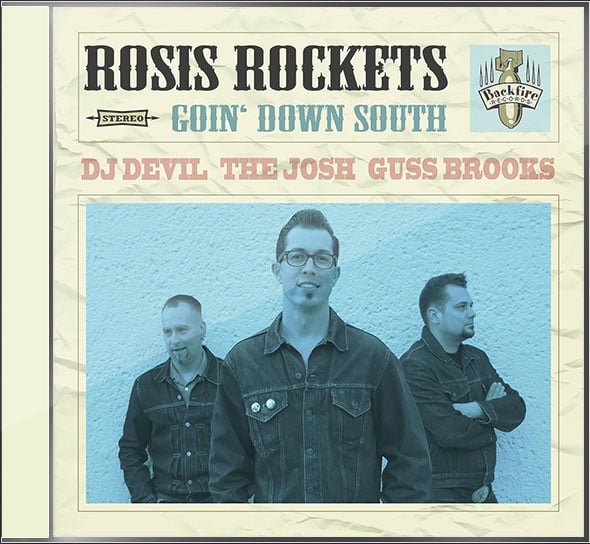 Release 2017
CD jewel case
Fans of B.B. King, John Lee Hooker, Link Wray, The Sonics, Ronnie Dawson, Elvis, The Paladins, The Fabulous Thunderbirds and Nick Curran will get a buzz out of seein' Rosis Rockets perform.
The drummer of Rosis Rockets is DJ Devil from Dresden who amongst others played the drums for James Intveld on his European Tour, The Lazy Boys and Johnny Falstaff.
Double bass player for Rosis Rockets is no other than Guss Brooks who is also well known for playing bass in "The Boss Hoss".
On guitars and vocals we have the trio's Jack of all trades "The Josh" who has also played for Eddie Nichols (Royal Crown Review) and Russell Scott.
Rosis Rockets always perform a powerful and energetic live show.
Since 2009 with interchanging line-ups led by their frontman "The Josh" Rosis Rockets have been preaching Blues, Rock'n'Roll and Rockabilly.
Formerly being the house band for Rosis Amüsierlokal in Dresden the trio started out with their infamous jam sessions and have also accompanied well known musicians on Tour.
And now that "The Boss Hoss" are taking a break they can finally go on tour themselves to show what "Ol' Rockin' Blues" can do for your soul.
Paul Ansell says "Fresh, in your face, imaginative soul rockin' rolling rockabilly"
Tracklisting:
1. Oh Marie
2. Goin´down south
3. Ain´t no fool
4. She´s built for lovin´
5. Moon over Mexico
6. Give your daddy some lovin´
7. Hide´n seek
8. I´m so lonely
9. Rosis!
10. She´s gone
11. Crazy´ bout the shuffle
12. The spy
13. Sugar coated love
14. Heartbreak Hotel